Last Minute Male Strippers.
Emergency situations and random spontaneity
Many last minute male stripper bookings come spontaneously due to time constraints, complex or clumsily improvised hen party logistics or various impulses and triggers. Whether that be naughty girly gossip, sudden mood changes, memories of strip shows or watching iconic male stripper movies.
Often a bride to be on her actual hen night or reveller birthday girl will reveal last minute she wants a male stripper as soon as possible or friends catch a rumour she wanted one, then it becomes an emergency situation followed by mayday calls to every stripper hire firm in London. A few customers said they thought up on the spot hiring a male stripper after talking to friends about the film Magic Mike and Magic Mike XXL.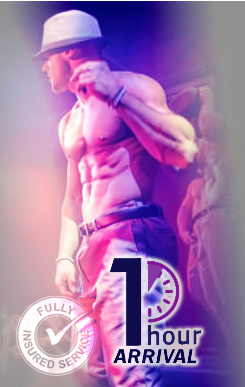 The idea of having a real hunky Magic Mike by 'male order' is often appealing to young female groups of friends on a hen night or girls night out and considered a novel experience for those who've never seen a male stripper in action before. Some girls gravitate to the idea after having been in the audience of a male stripper theatre show such as Chippendales, Magic Mike or Adonis Cabaret.
Sometimes you don't know when the mood and atmosphere is right for a stripper until the same day, last minute, very last second. Often after a party has had a few prosecco's and shots the group warms to the idea of a stripper, then expect very short notice stripper hire in less than one hour to their party before members of the group get too drunk or too tired. Sometimes there's a narrow window of opportunity available for all members of the group to enjoy a last minute strip show.
Many girls book once the party has peaked in energy to the point where they feel a male stripper would just be the icing on the cake, and very fitting for that particular party's atmosphere. Much of the excitement at a party is derived from the spontaneity factor and the element of surprise for their friends...and watching the expression on their faces.
During conversation amongst friends at a party, sometimes the organizers feel that their party urgently needs a lift in mood and energy. A male stripper being the perfect hilarious addition to solve that dilemma. Given that a male strippergram's job is to be available outcall at last minute notice, it's possible to have a male stripper arrive at the door within 1 hour of thinking of the idea. Especially in Greater London.
In a hen party atmosphere sometimes people know each other and sometimes they don't, with an assortment of characters from shy and conservative to wild. Sometimes it's only once everyone finally comes together in the room at the party with drinks that a group consensus and decision is made on whether to book a male stripper or not, and to lift the mood of the party or help gel the group. Sometimes organizers like to wait and see how all the girl friends when together react to the idea of a male stripper. On many occasions it's a surprise to everyone once he arrives, not just the bride-to-be or birthday girl!
A hen night itinerary can sometimes be manic and disorganized, to the point where nobody has control over the plan for the evening and where everyone will end up, especially when friends congregate at different times. In these situations the hens might wait until the end of the evening when everyone is finally together in one room at a private house party venue after clubbing, and then make a decision to book a male stripper to top off the whole evening, and make it a hilarious night to remember.
In some instances there might be one convincing reason, comment or happy memory brought up during a random group conversation that sparks off the whole idea to spontaneously pick up the phone and book a male stripper.
Other times customers book last minute strippers because they've been let down by a performer from another agency, especially if it's at a remote airbnb for a friend's birthday or hen. Certain rural villages deep in the countryside around Oxford, Cotswolds, Kent, Nottingham are notorious black spots where we often receive mayday calls for an emergency stripper asap! However they can easily be covered by specially selected reliable male strippers who have their travel cost covered.
Crack of dawn last minute bookings available for early bird airport transfers. Heathrow airport in London is known for traveller hen groups hiring last minute male strippers before their hen weekend abroad. Why not have two strippers? At home and abroad? The groom may also want to spoil his bride for her hen party before flying from London to somewhere exotic.
Expedited arrival within one hour for last minute male strippers in London and major cities:
How much is a last minute male stripper?